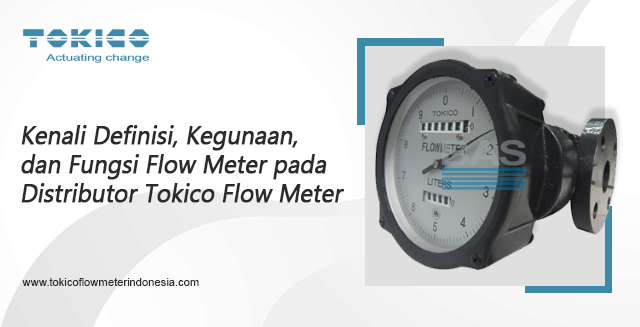 Know the Definition, Uses, and Functions of Flow Meters on Tokico Flow Meter Distributors
Flow meters or commonly called flow meters have been widely applied in various types of fluids. For example, the Tokico flow meter distributor provides flow meters for various oil measurement purposes such as diesel fuel oil, boiler oil, kerosene, light oil, and heavy oil.

What is Flow Meter ?

What exactly is a flow meter? Flow meter is a measuring instrument used to measure the mass or volume of a fluid (liquid, gas, and solid) in a dynamic flow. Flow meters are commonly used to measure fluids that move either in open pipelines, such as rivers, canals, or ditches, or in closed pipelines.

Use of Flow Meter
Flow meters can measure various types of fluids, ranging from liquids or liquids, gases, to solids such as chemical liquids, palm oil, and other oils.
Also Read : Flow Meter Bensin Tokico dengan Kualitasnya yang Sudah Terjamin

Then, have we ever found a flow meter around us? Of course ever. The most common flow meter application we encounter around us is as a means of measuring water volume, water discharge, or calculating the flow rate of a pump.

If you use water from PDAM, they also use this tool to calculate the volume of water that has been used by us. So, the amount of water billing can be calculated accurately according to the amount of water we have used.
See Our Product : Tokico Non-Fluctuation 12 Inchi Seri FFL

In addition, flow meters are also widely found to measure gas flow and oil flow, such as the Tokico flow meter. Each type of flow meter has different features and functions depending on the type of fluid. For those of you who are looking for a flow meter distributor, make sure you understand what type of fluid you will measure, the type of flow meter that will be used, and its specifications. Because, if you choose the wrong type of flow meter, it can be fatal and cost a lot of money.

Flow Meter Function on Tokico Flow Meter Distributor
The usefulness of the flow meter has been known, then what is the function of the flow meter? Check out the explanation of its function below.
See Our Product : Tokico Non-Fluctuation 10 Inchi Seri FFL
1. Measure the total volume of the flowing fluid. The units of measurement are m3, gallons, liters, and others.

2. Measuring flow velocity (velocity) with units of distance or time, namely meters/second, meter/minute, meter/hour.

3. Measuring the flow capacity (flow rate) in the pipeline. The units of measurement are LPS, LPM, LPH, m3/minute, m3/h, GPH, GPM, and others.

4. Controlling output in the form of analog output, such as pulse, RS485, 4-20 mA, relay contact, and others.

So, that was an explanation of the flow meter, its uses, and functions. If you are looking for a place to sell flow meters, such as a distributor of Tokico flow meters, make sure you know the type of fluid to be measured, the type of flow meter used, and its specifications.
Related Articles